THE AUSTIN FILM FESTIVAL – 25 YEARS LATER
Why writers like to hang with each other and are "still crazy after all these years?"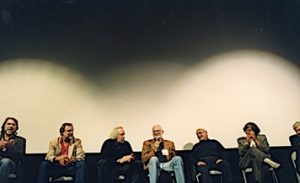 This photo was taken at the first Heart of Texas Film Festival in 1994. The brainchild of Barbara Morgan, a fiercely determined force of nature and Austinite, it was to be a film festival for Writers….yes, for Writers, honoring Writers, attended by Writers and celebrating Writers and the written word that drives our film, television, stage, and now podcast and digital media platforms.
Barbara had a vision, renamed it "Austin Film Festival– A festival for Writers", and the rest of the writing community, bifocals or not, flocked in droves as it lurched and bumped from that first year with 174 screenplay contest submissions to over 10,000 contest entries 25 years later in 2018.
No movie stars, no black tie VIP parties, no big Hollywood studio premieres …nobody here but us writers.
Now, who is in this vintage photo, taken with a pre-digital age camera from the looks of the print? Depending on your age and film history you might recognize a few legends and this one very nervous, feeling very out-of-place newbie writer, with the shaggy hair on the far left — that would be me: JV Hart, who, after 20 years in the business, had 2 scripts that for years nobody wanted, Hook and Dracula, then being directed by both Steven Spielberg and Francis Ford Coppola that same year. I still could not believe it — but was even more wowed by the company I was sitting with at this first incarnation of the AFF. All I could do was keep saying "thank you" to whatever god or gods had led me to this stage.
L-R after me – I am next to Bill Wittliff, legendary Texas storyteller and writer of The Black Stallion, Lonesome Dove, and many still in his future, like The Perfect Storm. And, yes, that is Robert Towne, who made the audience begin to remember screenwriters' names with his little screenplay called Chinatown. If Towne had stopped there that would have been enough to earn him permanent legend status in the annals of writerdom.
The white bearded wizard holding the center with the microphone is my mentor and long time friend, Frank Pierson, who gave us Cool Hand Luke and Dog Day Afternoon, and gave the audience iconic quotable lines such as; "What we have here is failure to communicate." and "Attica! Attica! Attica!". Oh, BTW, also A Star Is Born, with Kristoferson and Streisand. Frank, as a pioneer leader in the Writer's Guild of America and fierce voice of writer's rights — advocating for fair pay, proper credit, residuals, and pension and health coverage — was the first "legend" Barbara Morgan approached with her crazy idea about a festival for Writers. I can hear Frank's high pitched mischievous cackle and his commanding voice reply, "Sounds like fun. I'm in. Let's do it."
That is all the extra courage, or "shot of inspiration" [thank you Dan Petrie Jr.] that "Barb" needed to launch that first festival from deep in her heart, and the heart of Texas.
Next to Frank is Mardik Martin, whose memorable screenplays include "Raging Bull" and his work with the great directors like Martin Scorcese. And, yes, we are man heavy in this group, which would not be the case today, but sitting by Mardik is Janet Roach. Her award-winning script, Prizzi's Honor, pushed both the genre and the visibility of women writers forward, paving the way for the explosion of talent we have see in the film and television industries in the decades since.
And finally, Kurt Ludtke, a prize winning journalist turned screenwriter who had already given us Out of Africa, collaborating with another early supporter of the AFF, Sid Pollack.
So, cut to 25 years later and the 25th AFF and I am still here, year after year, unable to resist, nor wanting to resist, this unique gravitational pull of the AFF to spend 5 days in the company of writers. Writers at the top of their game and in demand, writers on their way up, writers on their way down, threshold writers who just want that chance to congregate with the pros and talk story.
On this special anniversary, veteran AFF writers and honorees illuminated the reasons we gather. Ed Solomon [Men In Black, Bill and Ted], my friend and fellow 25 year AFF veteran, pointed to the absence of professional competition for industry gigs, and the absence of deal making that boosts the atmosphere for an open and genuine opportunity to see and catchup with your colleagues as friends, not competitors.
Tony Gilroy [Bourne Identity, Michael Clayton, Star Wars – Rogue 1] this year's honoree for the outstanding Screenwriter, nailed it for me in his acceptance speech. The ever present force that gathers us with other writers is the empathy we have for each other. We know how lonely, and painful, and all-consuming the act of writing is – no matter where you are in your career. And when you are in the company of so many writers "who get it", the experience is life giving; an affirmation of the community we belong to and, quite frankly, how much fun it is to hang together. Writers should make this effort to come together as colleagues and members of the collective force that drives this industry.
"We [writers] are the timber", Tony said, the source and force that drives this global industry. In our professional lives, the studios and networks divide us and often force us to compete with each other for our livelihoods and careers. At the AFF, we are joined together in our craft, our desires, our wants, our validation at being members of a vast community of life lines and friends.
Ask any attendee looking for that first break, or that contest nomination [which is a win], or that first trophy, who come to the fest and discover they can hang with Shane Black, Tony Gilroy, Nicole Perlman, Linda Woolverton, Bill Wittliff, Noah Hawley, Christina Hodson, or the amazing Lindsay Doran, the likes of which attending threshold writers would never have a chance to encounter in LA or NY, as agents, managers, and studio execs, would make it impossible for such meetings to take place.
The writer Tony and I presented the Writer's Guild East Best Dramatic Screenplay award to was in tears. Her script, a jarring,unnerving, riveting story about human trafficking in the Native American community has earned her representation by a major agency. The mentoring she received from the professional writing community, and her recognition by the Academy in the Nicholls Fellowship, and the AFF win, gave her a huge boost.
She approached me in the lobby of the festival hotel as I was checking out to thank me [and the entire community in my mind] for the recognition and the inspiration and generosity she had experienced at the AFF. She felt the same energy and inspiration we all feel in the community of writers who have gathered for 25 years at the Austin Film Festival – The Festival for Writers!!
We all breathe the same rarified, privileged air, whether we are together or in our own personal writing zone.
I remember the moment this 1994 photograph captures and how terrified I was to speak, so as not to embarrass myself with these legends. [and maybe never be invited back].
"What is your favorite memory or Hollywood moment in your career as a writer?" was the question, or some version of that. Frank PIerson is in the midst of telling one of his many many stories as I sweat on the other end.
I was completely dis-combobulatedat how any story I could tell about my adventures in the screentrade could hold a candle to these giants. And then, suddenly it was my turn. I told a story about my son, Jake, who was embarrassed when asked by his classmates what his father did for a living. As a screenwriter, the question is always "what have you done?". To Jake's dismay my produced credits were zero to embarrassing, and so was his answer to his friends. Hard to explain to a 6-year-old what all those scripts were on my shelf, since they were not movies.
Jake may have decided to remedy that when, at 6, he asked the question at the dinner table that changed my career: "What If Peter Pan Grew Up?" After Hook opened in 1991, Jake's classmates stopped asking him what his father did for living. Instead, they sought him out to tell him "Your dad has the coolest job." A Senior at Jake's school let me know that when he stated this to Jake, Jake replied with pride, "I know."
I am proud to way that Jake, and our daughter, Julia, are both members of the Writers Guild of America and actively working in the screentrade, and Julia is directing her third feature for Disney.
Thank you Barbara Morgan, thank you to all my colleagues and mentors and AFF friends for 25 years of bringing us together to celebrate "the coolest job" ever, and for 25 years of memories embedded deep in the heart of this writer.
To Writers everywhere, if you are looking for a community that nourishes you and your ideas, come join us next year art The Austin Film Festival – The Festival for Writers!
Here are the Vets of the very first AFF/Heart of Texas film fest in 1994 at the 2018 25th Anniversary AFF: L-R; Bill Wittliff, Barry Josephson, William Broyles, and this lucky writer!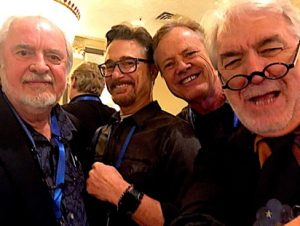 Brain Blizzards to you in your writing life.
To be continued
JV Hart
Writer – Job Creator.