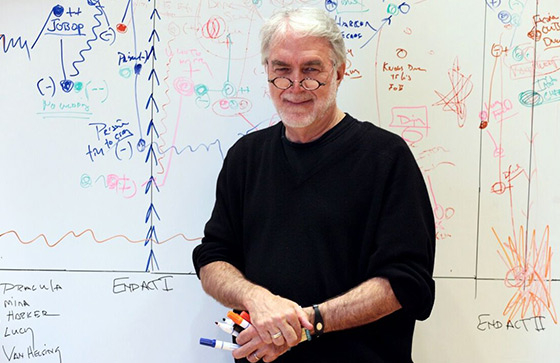 The Top 5 Things That Every Writer Loves To Hear (right?):
"I don't get it."
"The characters don't pop."
"It doesn't really work for us."
"We're going in a different direction."
"Page 1 re-write…." (J.V. Hart's personal favorite)
ROADBLOCKS, OBSTACLES AND DANGEROUS CURVES AHEAD
What is frustrating about these comments is that they are generic. They give no specific feedback that leads to tangible insights that you can translate into specific fixes in your scripts. Which makes it then really hard to see your work with fresh eyes and find new ways to bring your character's journeys to life.
J.V. Hart has worked with many producers, writers, directors and even actors to strengthen their story and character development. Having access to a one-on-one story or script development with film industry veteran J.V. Hart is an unprecedented opportunity to utilize the HartChart in your own process and to work collaboratively with J.V. on your story or script.
WHAT YOU CAN EXPECT FROM CONSULTING WITH J.V. HART:
The consultation will include:
A one-on-one story session
Analysis of the existing draft
Charting the characters' journey and diagnostic recommendations
Phone consultations during the rewrite utilizing the HartChart insights
J.V.'s analysis of the revised draft
Working through your story with J.V Hart using the HartChart process will give you the confidence to take your story to market.
Get a private consultation with James V. Hart, the author of many books, movies and screenplays. This is a unique opportunity to work privately with a professional writer who knows how to capture a story. Choose your session below and James will reach out to you for scheduling.
3 products available:
$2,500 – One Day Consult: Script Analysis and Chart + Follow Up
$5,000 – 4 Consult Sessions [12 hours] + Script Analysis + Chart + Follow Up
$10,000 – 3 Months – 2 Consult Sessions Per Month + Script Analysis + Chart + 2 Follow Ups
Choose your session below and James will reach out to you for scheduling.