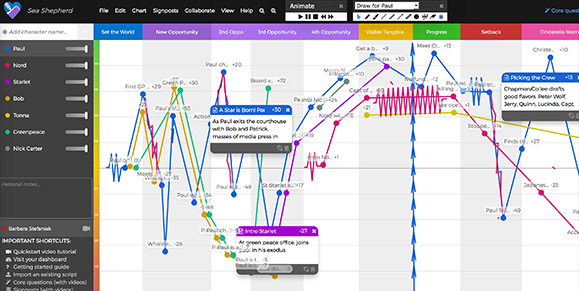 A Dynamic, Everyday Writing Tool
The HC program is a dynamic everyday writing tool that incorporates JV Hart's decades of experience into a digital version of this indispensable story mapping tool to provide a practical, easy to use solution to your blank page fears and writing struggles.
IT'S NOT MAGIC, IT'S HARD WORK. (DON'T WORRY, IT'S WORTH IT)
Run diagnostics on your existing script or start from scratch on a new story. As the HartChart enables you to analyze and visualize your character-driven narrative it will lead you through a process that helps you build a great story to a satisfying ending… every, single, time.
WHAT TO EXPECT FROM THE HARTCHART APP:
A dynamic step-by-step story mapping platform on which to chart your writing project
Demos of the HartChart in action on scripts like Dallas Buyers Club, Imitation Game, and La La Land
Videos from J.V. Hart discussing story structure with examples
Your online HartChart account from anywhere, anytime
Autosave archives every chart with dated revisions
Video collaborate; share your charts with writing partners, production teams, class or writing group, with full editing or read-only access.
Automatic software updates
Contact Us link for questions and troubleshooting.
By clicking BUY NOW you will be directed to our Order/Registration page.
Please use this section to purchase the Hart Chart App and use any discount code provided.